"Hello, Brands. Welcome to Tumblr. Your biggest fans are already here." shines out of the page like the h1 tags over the pearly gates. Exciting, enticing, and yet oh so very terrifying.
Tumblr remains a mystery for many people, let alone brands and advertisers, so how can you use it as a part of an effective social media strategy?
Tumblr was founded as a microblogging site in 2007, and is currently home to more than 250 million individual blogs. It receives around 200 million unique visitors a month globally, and the average length of a visit to tumblr is 28 minutes. It's also full of younger, more affluent people, who are more engaged with social media something that almost every brand should be interested in. Tumblr is also accessible from search results, without the need for a login like Facebook, increasing your visibility and the ease with which people can find your site.
Monitoring your audience
One of the most powerful uses of Tumblr is in the difference to how users behave compared to other social media networks. On Tumblr connections are made mostly by what you are interested in, rather than who you know, giving a new insight into your audience.
This allows you to use monitoring software, like Websays, to study your audience, discover their interests and better serve their needs as customers.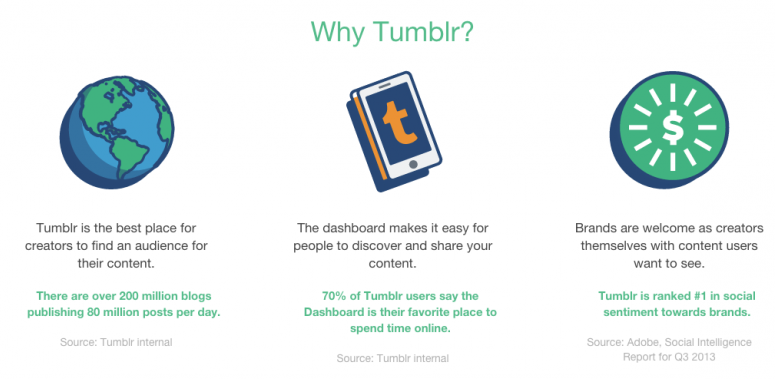 Monitoring can be difficult on such a visual medium, so when you're monitoring your Tumblr audience be sure to use an image search for your brand logo or other iconic elements, as inevitably people will be posting photos of your brand without mentioning it by name.
It's all about the visuals
Like Instagram, Tumblr is a very visual medium, best known for its gifs, in fact straight links have the least engagement on Tumblr, especially compared to videos and images. You're unlikely to get particularly far advertising on Tumblr in any other way, but that doesn't mean you can't have success. Fashion brands have been able to use it to great effect for example, none more so than Nike.
As a follow up point, it's worth getting to know Tumblr, perhaps through one of its brand strategists, before you start posting. As the brands page suggests, you're invading the world of people who already live and breathe Tumblr. Posting willy nilly and without an awareness of the medium is likely to get you in trouble with more regular Tumblr users, such as this "TELL US YOUR STORY" Tumblr, which is a collection of brands asking users of social media to tell their vaguely-related-to-our-product stories.
Got any more Tumblr tips? Leave them in the comments.
Featured image: Gabrie Colleti on Flickr