When settling on one's strategy, it's extremely important to take one's direct competitors' strategies into account.  This is called benchmarking.
Consider Alitalia, for example, which took advantage of a viral Norwegian Airlines ad, deciding to publish its own "response" to take advantage of the media furor over Brad Pitt's divorce from Angelina Jolie.
It's crucial to define one's competitors well in order to see their market position, the type of consumers who follow them and the reactions they generate.  That is to say, to measure their online reputation in comparison with one's own.  To do this, we ask ourselves the following questions:
Which brand is dominating the conversation?
Whomever has the largest share of voice will have the leading role on the web and get the most attention, be it positive or negative.  This lets us know where the attention is focused and allows us to put good practices in play (or avoid bad ones) based on what's going on.  In this example, in which we monitored social media for the conversation about Spain's main banks from October 3-10, we can see that Bankia received the most mentions – 57% of the total to be precise – and Banco Santander the fewest, with 6%.  It's especially noteworthy that Banco Santander, CaixaBank and Banc de Sabadell together don't add up to even a third of the conversation there is about Bankia.  We'll see why.
We can also see a decrease in Bankia's share of voice, which falls 13% compared to the previous week, while Caixabank increased its online presence 53%, reaching 13,470 mentions collected between the third and the tenth of October.
"Protagonism" can be measured by different parameters, such as:  mentions, reach, activity on corporate channels and responses to that activity, and external conversation.  Knowing these variables, we can see that protagonism can be "faked."  We must keep track of the conversation on corporate channels, generate engagement with users and manage to stimulate the conversation, as more people who talk to us or about us lead to more people who know about us.
In this case we see that Banc Sabadell dominates 29% of the official conversation that stems from the corporate channels, but only 5% of the external conversation.
Who is more popular?
Being the focus of attention is all well and good, but the important thing is that the attention is positive.  Only that will translate into sales.
If a brand is gets a bad reputation, it's highly probable that its sales will drop, and if its reputation isn't as good as its competitors', it will lose potential customers.
Each sector is different.  In our experience we have seen some sectors in which keeping to only 20% negative mentions was quite a success, while in other sectors, having less than 40% positive mentions meant lagging behind the competition.
One must not only be good: one must be better than another.  The importance of comparison has stood out over the years, which is what we want to address.  How good am I compared to my competitors?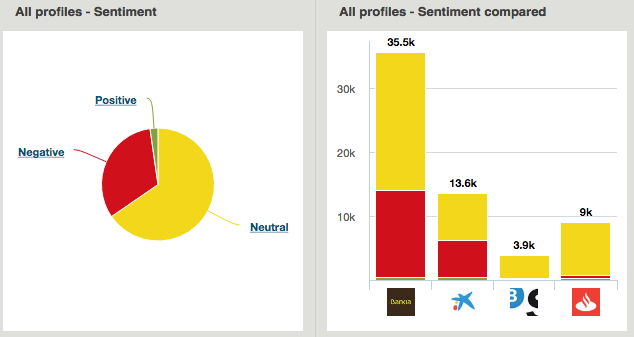 We have mentioned that Bankia was the protagonist of the conversation we studied, but – compared to its competitors – it dominated the negative conversation.  This means that potential clients looking for information about this bank would find many more negative comments about it than they would about another bank.
On the other hand, if they looked for information about Banc Sabadell, they would find less, but almost all positive.

If we look at the main media that talk about each bank, we can see that they are more or less the same, although Bankia is also present on telecinco.es and cuatro.com because of a controversial case that got general media attention, whereas only specialized media tended to talk about the rest of the banks.
Which channels should I Use in My Sector?
This is the million dollar question.  Where will my communication be most effective? Twitter, Snapchat, Instagram, Facebook, YouTube, Pinterest, Vine, Periscope,… the list of social media is endless and every day new platforms appear.
The answer is the fruit of experience, which doesn't necessarily have to be our own.  Observing the social media the sector is using is highly useful to keep us from winding up alone on a medium in which everything but what interests us is being discussed.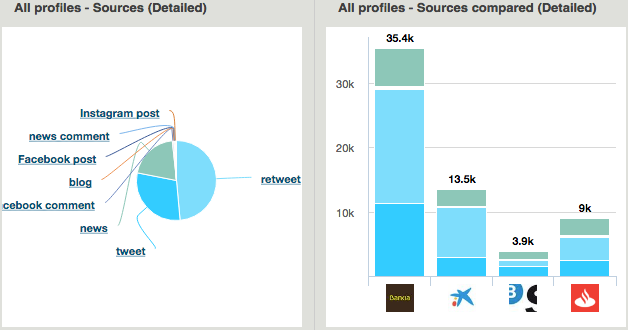 In this case we see that in general, the mentions are concentrated in news sites and on Twitter, particularly in retweets (almost 50% of the conversation is based on the famous green icon that shares messages).
The importance of knowing what our competitors are doing rests on the possibilities that this information offers, the capacity to anticipate and to improve strategy planning.
This study was carried out using Websays Comparisons, a Websays tool.  For more information, don't hesitate to schedule your demo by e-mailing sales@websays.com.