Online monitoring is already present in virtually every company and brand and a wide variety of listening tools are available on the market.
Some of them, like Hootsuite, offer a service limited to monitoring within corporate channels or official hashtags.
Our experience has taught us that most comments are clustered in external channels and often escape the notice of companies without a powerful listening tool. Almost 70% of references are made over external channels. What's more, news can account for as much as 5 percent of total mentions and are also lost without a good monitoring tool.
Noticing these references manually is extremely difficult because one brand can be called by numerous variations on its name. For example, users do not always mention Ryanair as such, but also use raianair, rayanair and other versions. This multiplies the work and hinders the overall analysis, leaving information out.
Websays not only captures all the terms used to refer to a brand, but further improves the quality of the results by the supervision of analysts who ensure that the information is not lost and is centralized on the dashboard.
What would happen if the city of Barcelona registered only the conversation within its channels?
The engagement graph, available in Websays' reports, displays the conversation about Barcelona over the last 48 hours.  96,01% of the references were made over external channels.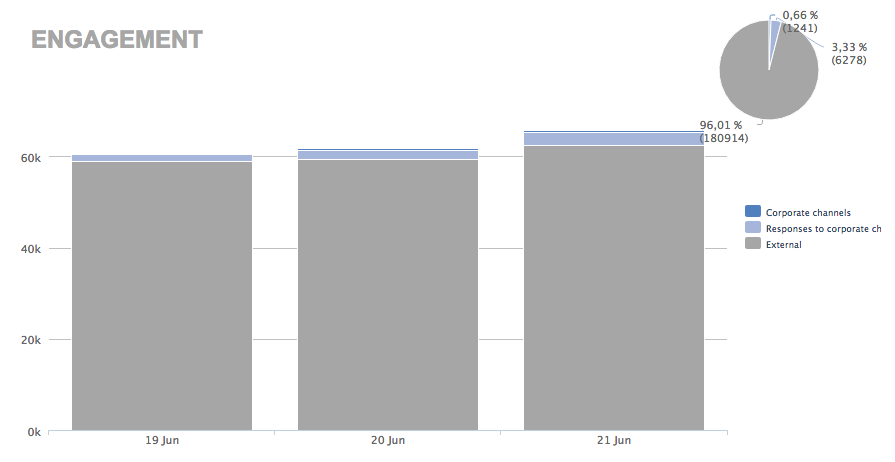 If the conversation is not analyzed comprehensively, taking into account all the mentions and queries, the conclusions drawn in the reports would be difficult to understand and not very representative of reality.
As we explained in an earlier article on Websays' measures applied to the banking sector, if you don't pay attention to the external references, you have no control over the conversation and cannot successfully manage a crisis of reputation or respond appropriately to clients' requests.