Doubting whether your social media efforts are enough? Maybe you think your brand doesn't get the most out of them? ?
If so, we give you our 3 keys to show you that investing in a Social Listening tool can benefit strategic marketing decisions and, consequently, the online reputation of your brand.
The client is in the social media, he informs himself and gives his opinion through them. Social Listening consists of identifying and monitoring the conversations that occur in the social networks around your brand, as well as your products or your competition. Therefore, it offers us a perspective to evaluate what happens in the social media with respect to your company and see if you're applying the right digital marketing strategy.
In addition, from the perspective of a CX (Customer Experience) strategy, listening to social networks will help you to know what worries users about your brand, or what they are dissatisfied with (or happy, not everything will be negative!) in order to know the strengths and weaknesses of your brand. Let us introduce three keys:
1. THE 'WHERE' MATTERS
There are many social networks and other platforms in social media (blogs, forums, etc.) and, therefore, it is important to distinguish the audience and what variety of opinions of your brand are formed in each of them. This past October 2019 there were, according to We Are Social's "Digital 2019" report, a total of 3,725 billion active users in the social media, with a penetration of 48% of the total population. To understand the needs and interests of these users with respect to your brand, you must first understand where they come from and from what platform they communicate.
Thanks to Websays Dashboard and its new geolocation functionality (Websays Maps) you can easily locate users who are talking about your brand in an interactive map. In this way, social listening allows the brand to focus its marketing efforts or reach a specific region:
In the same way, it is very useful to segment the audience by social network in order to know in which platforms your target moves and, thus, to apply one strategy or another in the different networks:
2. MEASURE THE SENTIMENT!
Another of the key elements of social media listening is the sentiment measurement (positive, negative or neutral), as it is a measure that brands use for crisis or reputation management. In the event of a crisis, in order to manage it and get out of it, you have to see what people say, how they say it and what their opinion is about it. This is where Social Listening tools come into play.
And it is not only about measuring the sentiment of a specific moment, but also about measuring the sentiment trend of users talking about your brand or the period in which a given campaign has lasted: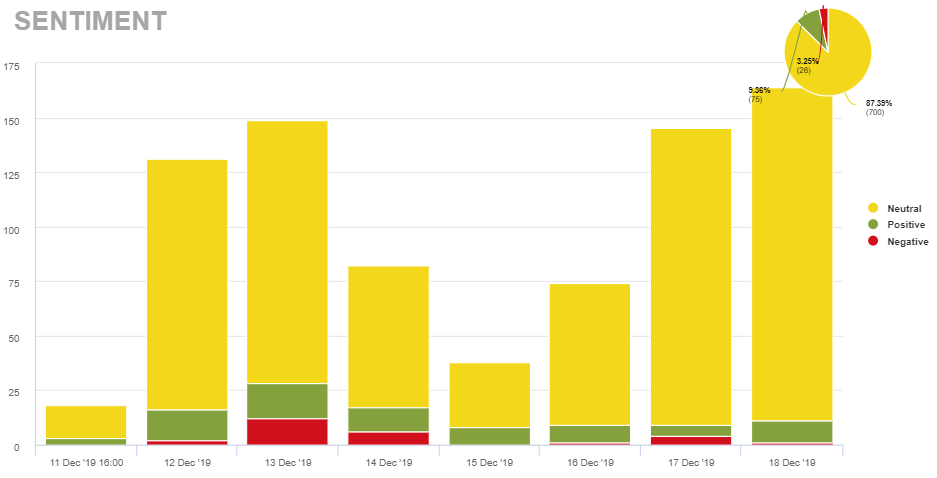 3. FINALLY, IT'S ALL ABOUT A CIRCULAR EXPERIENCE
Not only is it enough to identify the channels in which they talk about you and to identify the sentiment that Internet users evoke towards your brand, but it is also necessary to react and respond! At Websays we believe that Social Listening is a closed circle, a Circular Experience in which the customer and the brand feed back without even wanting to and which consists of the following phases:
Listen to your customers: even if they mention you (with @ or #) or not, with the appropriate Social Listening tool you will receive all the mentions of your brand.
Engage and interact by assigning complaints or reviews to a specific agent or department, either outside or within your organization.
Improve, improve and improve! from the analysis taken from monitoring and Social Listening.
Promote your improvements as a brand so that your customers or potential customers know that you take their opinion into account.
Investing in a good Social Listening tool allows you to obtain the necessary insights to orient your business towards the needs demanded by consumers. If you want to see the Websays Dashboard tool in action, you can schedule a free demo: