Ryanair is undoubtedly one of the most important airlines in Spain. Nevertheless, the company doesn't offer customer service for its Spanish-speaking clients.
Their social media management – for Facebook and Twitter – is handled from a worldwide corporate profile.
Over the course of the week between March 24 and 31, Ryanair's corporate Twitter account got 6,514 mentions. These mentions happened in 14 languages and 11% of them were in Spanish.
It's impossible for a Community Manager to manage this volume of mentions and languages. Even if not all the mentions are complaints or questions, many of them are.
Given such a situation, customer service departments can consider two solutions:
To create a local account for each language: There are some cases of companies with different Twitter accounts for each language. One of the principal advantages to handling networks this way is maintaining a clear segmentation of the audiences.
To apply an automatic ticketing platform: There are other cases in which the solution is the use of a platform that allows for automatic ticketing to the agent who can speak and read in that language.
 After actively monitoring the conversation about Ryanair on social media, we have gathered some of the mentions that went unattended and the consequences of that lack of attention.
Incidents: In some cases, users bring up issues they have had with the company before completing a purchase. It's of the utmost importance that these cases receive a response in order to close the sale and not lose the client. It should be noted that not responding to this type of comment leads to the client going to another company – to which he or she will go first for future purchases.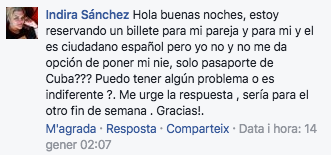 "Hi, good evening. I'm reserving a ticket for my partner and I and he is a Spanish citizen but I am not and it doesn't give me the option of entering my foreign resident's card, but only my Cuban passport. Could I have a problem or it doesn't matter? I need an answer fast, as it's for next weekend. Thank you."
Comments: In the case of airlines, most comments are complaints or questions. When a client or potential client leaves a positive comment, it's important to respond in such a way as to generate a good relationship with the client and a good reputation for the brand.
"I fly with this company to LONDON. My daughter is working there , and she flies too and we are very pleased."
Questions: In this user's case, he asks a question about flying with Ryanair but he doesn't use the company's hashtag. So it falls on Ryanair's customer service department to find these external mentions and respond to them to reinforce the company-client relationship.
"Hi @alanxelmundo I am going to fly with Ryanair but I don't know if I can carry my tripod in the hand luggage, do you know if it's allowed? Thanks."
In an era in which the client is ever more demanding and the management of the relationship with just one client can lead to a serious crisis of reputation, it is essential to depend on a good customer service department that can integrate social media mentions and facilitate coordination between agents.
If you want to know more about Websays, just pick an hour in the calendar and we will contact you to arrange a meeting.
Book a demo and a Websays specialist will show you everything you want to see from our tool in a guided tour.