In the first of our analyses of what makes Barcelonan's tick, we'll be taking a look at what makes them happy. Barcelona is world renowned as a smart city, placing it at the cutting edge of technology. This success, in turn, makes Barcelonan's very happy.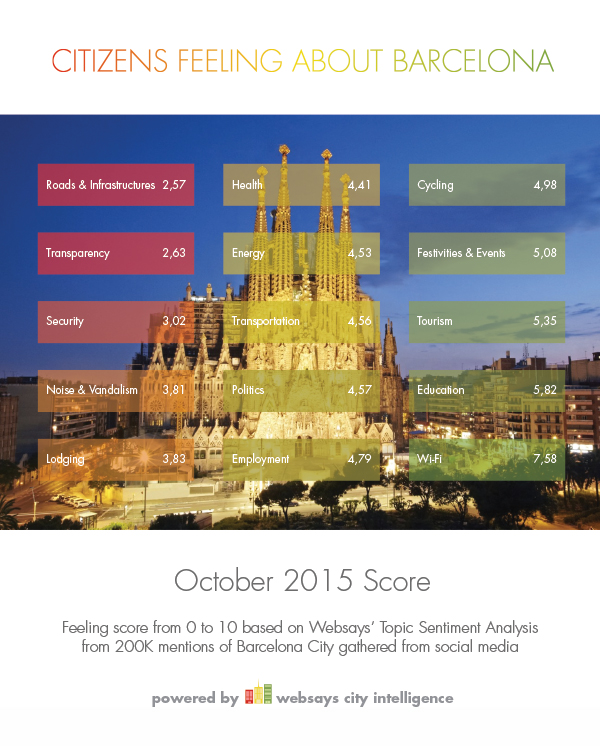 Wi-Fi is the top positively mentioned topic of all the topics Websays analysed between October 10th and November 10th 2015, with a score of 7.58. Representing this in a graphic to show the change over time, it looks like this: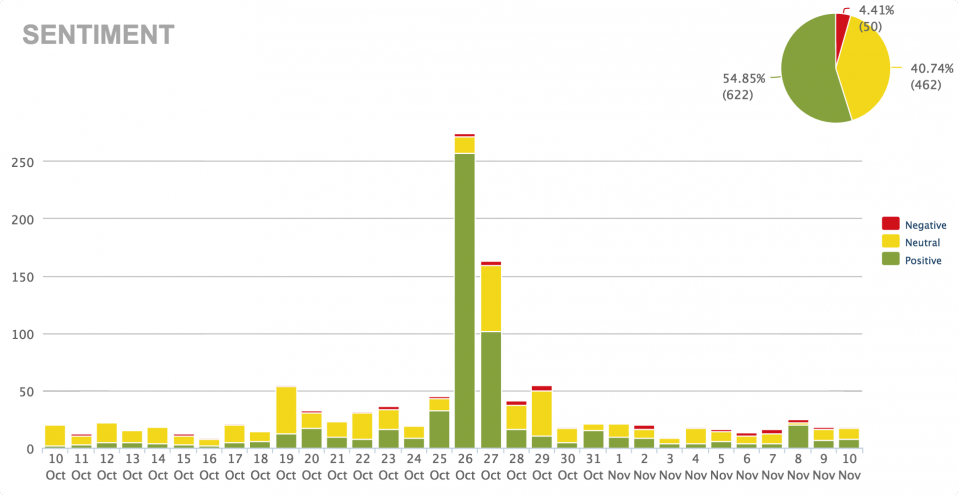 Image via the Websays Dashboard.
54.85% of all mentions of Barcelona's wi-fi network were positive over this period, while just 4.41% of the mentions contained a negative sentiment. The free wi-fi network has been at the heart of Barcelona becoming a world leading smart city in recent years.
Mentions spiked on October 26th where 257 of 274 mentions were positive. This dropped to 102 of 163 the following day. Around 2million people were reached by conversations about Barcelona's wi-fi on social media, up 350,000 from the month before. Of those commenting on Twitter, these are the top influencers: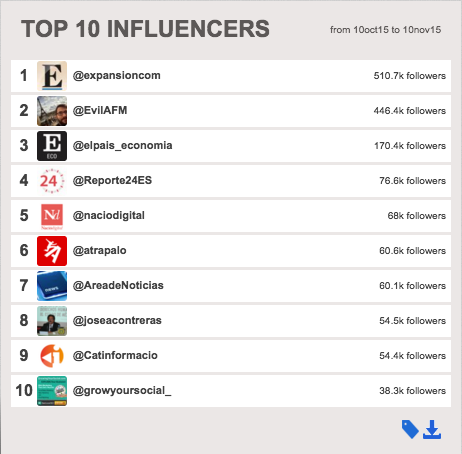 @expansioncom
is a financial newspaper which recently published an article covering the news that both Barcelona and Madrid are rolling out new tube carriages with free wi-fi, excellent news for all bored commuters, while
@EvilAFM
seems to be a bloke who loves airport wi-fi.
@elpais_economia also covered the free wi-fi on certain tubes story, which may have lead to the spike in positive sentiment around the 26th and 27th, as commuters across Barcelona learned of, and appreciated the new development.
But it's not all plain sailing for the local government…
The thing that annoys Barcelonans the most is the Roads and Infrastructure, scoring a measly 2.57 on our topic sentiment analysis ranking. Over the month, mentions looked like this: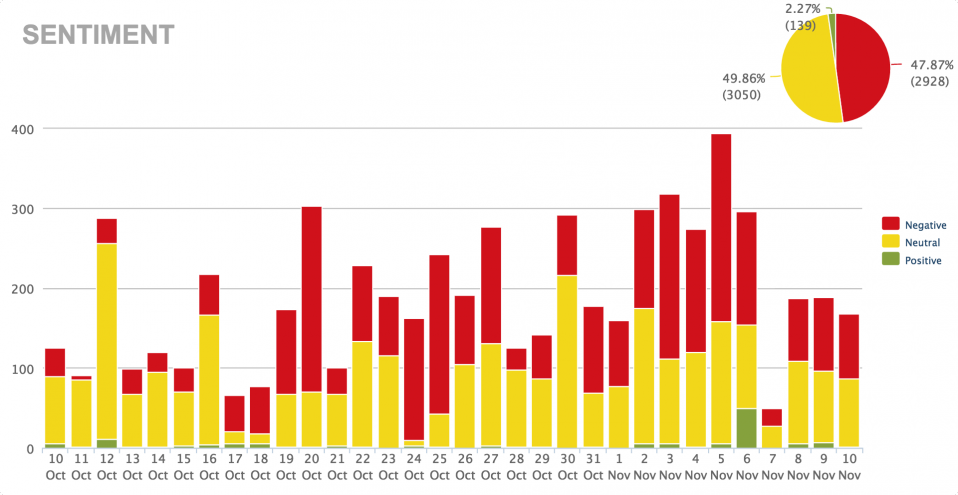 Image via the Websays Dashboard.
The difference is quite striking. Negative mentions make up 47.87% of all mentions, almost as many as neutral mentions at 49.86%. On October 24th, negative mentions made up 152 of 162 mentions, nearly 94% of all mentions that day.
As you might expect, the negative clippings with the most impact are those referencing traffic accidents from around Barcelona, or this coverage of a mock accident put on by the council in order to train their emergency services. There has also been some social media interest in a protest that blocked one of the major roads in Barcelona.
Protesters blocked the Ronda Litoral, the coastal road that surrounds the south east side of Barcelona, calling for the release of 30 activists, imprisoned under Spain's controversial "Gag Law."
AHORA: 30 solidarios cortan el tránsito en la ronda litoral de Barcelona en protesta por los presos anarquistas. pic.twitter.com/E25rckaDBF

— N&A (@link_anarquista) November 5, 2015
The Gag Law significantly limits the rights of protest for Spanish people, with huge fines and possible imprisonment as results of breaking it. On one occasion, a man was even fined for describing the police as "slackers" on Facebook. Protesters blocked the road with a banner, whilst just a few tweets of the picture gained more than 200 retweets online, even though the protest is prohibited by the Gag Law. They then accused the official @transit account of lying about the reason for the traffic jam.
És una vergonya que @transit, per interessos polítics, menteixi sobre origen de les retencions a Ronda Litoral #Bcn pic.twitter.com/tQqGDWH4tA — Albert Martínez (@albertmartnez) November 5, 2015
Traffic was apparently stopped for 15 minutes as protesters blocked the road with a banner and the #jotambésocanarquista hashtag, but at the time of writing, the local transit authorities have not verified the existence of the protest.

Avui a Barcelona la ronda litoral ha estat aturada 15 minuts contra els muntatges policials #jotambésocanarquista pic.twitter.com/HqXDZvgaJi — En Moviment (@Rereguarda) November 5, 2015
It's not all doom and gloom, however. There are some small pockets of positive conversation, such as Barcelona's new network of fast electric car charging stations, part of the smart cities project to make Barcelona more environmentally friendly.
The topic includes mentions of roads throughout Barcelona, but is likely to be influenced by the fact that there's very little reason to mention what road you're on unless something bad, like a traffic jam or accident, has happened.
However, this offers a new opportunity for local services to respond to jams and road problems that may otherwise go unreported, or to gather more information about the events that unfold after an accident, and watch them in real time.
Like what you see? Websays will be at the Smart City Expo in Barcelona November 17-19th, Hall P2 , Street A , Stand 201.