See all that's being said about you in news, social media, blogs, forums. Get real-time indicators so you can evaluate – at a glance – your popularity, share of the conversation, impact, fidelity and sentiment.
Overwhelmed with clippings?
Gain insights by browsing your Websays Clippings by date, source, author, topic, sentiment, or a combination.
Still overwhelmed?
Let Websays text analytics technology summarize and categorize the main topics of the conversations and highlight positive and negative topics and authors.
Take control of your data.
Websays indefinitely stores all of your data and metrics and allows you to export it to Excel and other compatible formats.
Do you need to make a presentation?
The Dashboard offers you many easy ways to export data from individual charts, clippings, etc.
Real-time advanced filtering dashboard only with relevant mentions.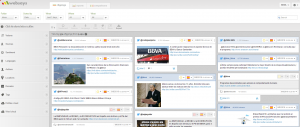 Made me say and thats true, too just as years
essayclick.net/
of reading and