As users and content consumers, we know this: we are getting more and more impatient. Nowadays, due to the generalised use of the smartphone and the importance of micro moments, it is essential for users to get the information they want immediately and, for this reason, the so-called fast content and Stories succeed.
What is the key to the success of the Stories? ?
Stories (ephemeral audiovisual content that disappears after a certain time, usually 24 hours) are already present in all our favourite social networks, recently introduced in Twitter and LinkedIn. Since Snapchat launched this type of content a few years ago, more and more social networks and applications have chosen to copy the idea and apply it.
However… What is the reason for their success and what are the advantages?
IMPROVES ENGAGEMENT: If, for example, a company publishes a story announcing an event and this disappears after 24 hours, it "forces" the user to be aware of more stories of the brand to be informed. In other words, the stories keep the audience informed of new developments and updates (as long as they are of interest and catch their attention!
HUMANISES THE BRAND: By taking advantage of this new format of fresh and spontaneous content, companies can tell more human stories and even show the people 'hiding' behind them.
PROMOTES INTERACTION: With Stories, a brand-customer communication channel is established much more quickly and efficiently than traditional channels or other forms of customer service.
AUDIENCE SEGMENTATION: When sharing stories, the brand can select who will see the content in order to impact the target that interests them.
Twitter gets on board! What are the 'Fleets'? ?
Fleets are ephemeral posts that disappear 24 hours after publication, and can be photos, videos, texts or tweets. According to Twitter, the Fleets are useful to share ideas or momentary reflections that you would not share in a tweet and that help to start conversations and get more people to join them. However, they differ from tweets in that Fleets cannot be retweeted, commented on publicly or liked, and only appear in mobile Twitter apps.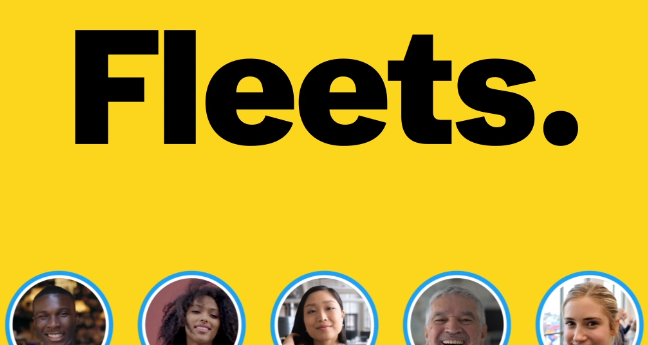 In addition, according to Twitter, Fleets is launched with the aim that "everyone can easily join the conversation in a new way by contributing their fleeting thoughts", as many users feel "that tweeting is uncomfortable because they consider it too public and permanent over time, and that they feel a certain pressure to accumulate Retweets and Like".
Monitor Stories with Websays! ?‍?
As with any content that you publish as a brand (and which has an impact on the user), social media monitoring is essential. That is why it is also necessary to measure the impact of the stories and their repercussion on your marketing campaigns.
To make this task easier, Websays now incorporates the stories in its clippings so that you can also get insights from your fast content. It does this by integrating the Instagram Stories and studying the Twitter and Linkedin APIs to incorporate those of both networks. At the moment Linkedin is not announcing any plans in this regard and Twitter says that it is not even on its Roadmap… but we will keep you posted!
You can schedule a free demo and we will show you the Stories and much more ??