How can we predict the polls' future?
At Websays we analyze all the real-time data from social media, where users share their views and intentions with respect to the elections. Using digital media monitoring technology and subsequent analysis, we can predict what will happen in the polls.
How do we keep tabs on a party's online reputation?
Online monitoring is a tool to keep track of a political party and the candidates' reputation. The real-time data can also help define and manage political strategies and improve results.
How do we know what people are concerned about?
It is also very important to know which issues the country is concerned about to be able to react in time with improvement plans and to interact with the people forewarned of their preferences. This will improve the relationship and effect both positioning and social media reputation, which can lead to votes or followers.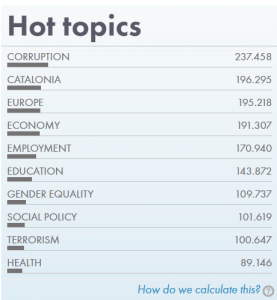 What are the limits of monitoring?
Thanks to the technology that we use at Websays, there are no barriers. Monitoring can be national or international. We have the ability to connect to the global network and to analyse any conversation that takes place in different languages.

Our electoral experience
We have substantial experience in different electoral campaigns, both national and international.
Presidential Elections in Peru 2021
Presidential Elections in Ecuador 2021
General Elections in Spain 26/06/2016
General Elections in Italy 24/02/2013
Do you want to see Websays in action?
Book a demo and a Websays specialist will show you everything you want to see from our tool in a personal demo with you.