Websays Clippings shows you in a simple, organised and accessible way, what is being said about you or your brand on social media, news, blogs, reviews, forums and other websites. We have real-time metrics so you can measure, at a glance, your popularity, reach, impact, loyalty and sentiment, among other factors!
We say it is, quite simply: Easy and intuitive access to all mentions with Marie Kondo's organisational skills.
All the conversation in one place, all metrics visible and distinction between owned or acquired content
Why our clippings and the Websays Dashboard?
We store all conversations about your brand or opinion study, forever! You will see your historical data and make evolution comparisons for any periods.
Our dashboard has advanced filtering in real time, only with relevant mentions. You can filter information by date, reach, source, author, topic, sentiment, among many other metrics!
The mentions displayed on the dashboard, as well as being categorised by machine learning, are also reviewed by analysts to ensure they are all relevant and in line with your brand. No noise needed!
If you want to organise your information even better, use our technology to segment into categories, e.g. top issues, authors, positive and negative topics.
Take control of your data! With Websays you can export all your data and statistics to Excel. Got a presentation to make? The dashboard offers many ways to export your data easily: individual graphs, clippings, etc.
Four display options, just for your convenience!
The Websays dashboard has four clipping display modes. This way, you can choose the one that best suits your needs:
Compact mode: clippings are displayed in a table format and you can customise what columns to show.
Conversation mode: clippings are displayed grouped by conversation and in order of creation to easy understand what responds to what.
Bloc mode: conversations are shown in mobile format, ideal for the stories (saved forever!).
Expanded mode: the clippings are displayed as in bloc mode but larger, expanded.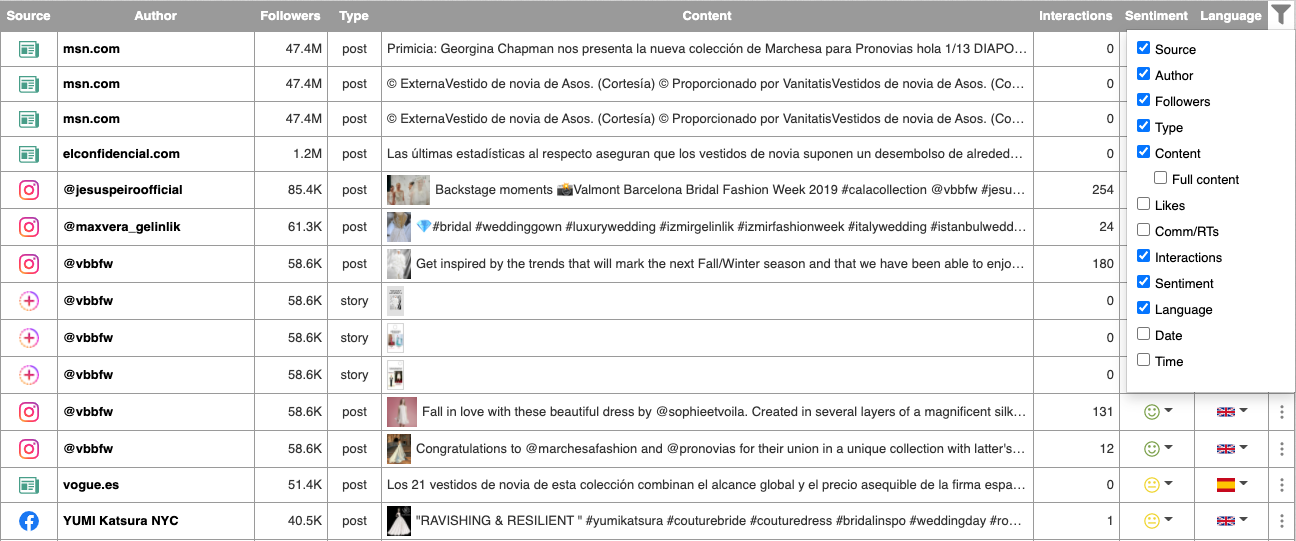 Compact Mode showing only some columns, the ones you need for each type of analysis and sorting for what you need!
Conversation mode (left) and bloc mode (right)
And all these features always with the power of filtering by any insight you might think of, thanks to the Dashboard filtering that applies to all sections: