Visualise graphically where your brand's mentions are generated, whether they are on Twitter, news, blogs, .. and geolocate more than 60% of your conversation!
With Websays Maps, you can easily locate users who are talking about your brand on an interactive map. Social Listening allows the brand to focus its attention on specific areas.
Find out where people are talking about your brand!
Websays Maps shows, on an interactive map, the geolocated clippings and authors. In other words, with this feature you can locate the users who are talking about your brand and what they are saying about it. As always, you can use the "When", "Where" and "What" filters to narrow down the conversation according to your preferences, as well as the filters located on the left side of the dashboard.
The map can be zoomed in or out, depending on whether you want to include more territory (with the possibility of a global view of the whole globe) or even a specific street: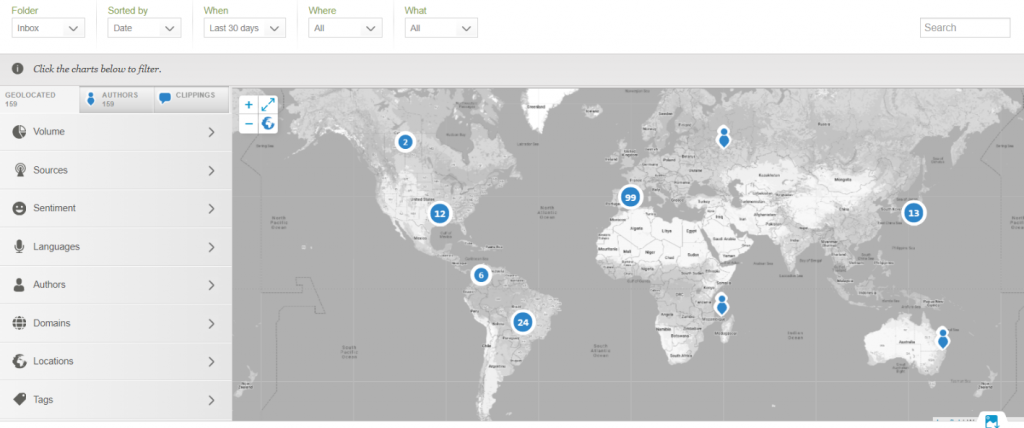 Clipping location VS. authors location
In Websays Maps two types of geolocation are displayed:
? Geolocation of clippings: Clippings (mentions) can be, on one hand, those indicating their location which we convert into coordinates centred on the perimeter and, on the other hand, those geotagged to a specific location with coordinates, in which case, they are located with an accuracy of 5 meters.
? Geolocation of authors: If we are talking about authors, based on the location indicated by their profile on Twitter, Facebook, Instagram or YouTube or according to the reach of the media, we convert that location into a coordinate centred on that location, whether it is a neighbourhood, town, province, autonomous community or country. In the case of news, blogs, forums and other websites, the location of media coverage is indicated, in these cases, it is always shown in the geometric centre of the perimeter of that location.
And all these features always with the power of filtering by any insight you might think of, thanks to the Dashboard filtering that applies to all sections: