Tech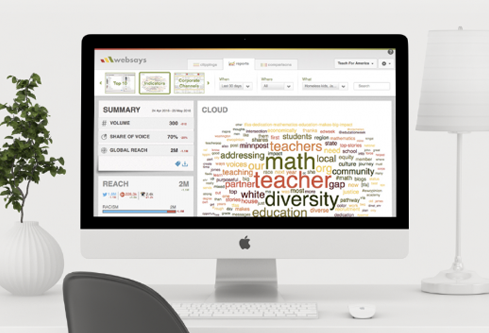 Websays is a software company specialised in web search, natural language processing and machine learning. With a mixed team of developers and data analysts, we cover the needs of new customers in data intelligence to deal with large volumes of unstructured data, in real time. Thanks to a technology 100% cloud using the latest indexing techniques, we are capable of obtaining multiple sources (by subscribing to social network APIs, web crawling and hiring other data providers) and indexing new data in milliseconds so they´re available on our dashboard in real time.
Thanks to a set of categories, sentiment rules, topics by keywords, etc., the labelling of this information is also automatic. We can show the mentions as soon as they are published and correctly label them immediately. So if a mention matches certain rules of sentiment, topics, etc., it is possible to identify it immediately as well as categorize it by theme, reach, engagement, etcc. The Websays Dashboard can help you manage millions of mentions in the most intuitive and easy way, according to our customers, the most demanding and experienced in this field in which we have been pioneers since 2010.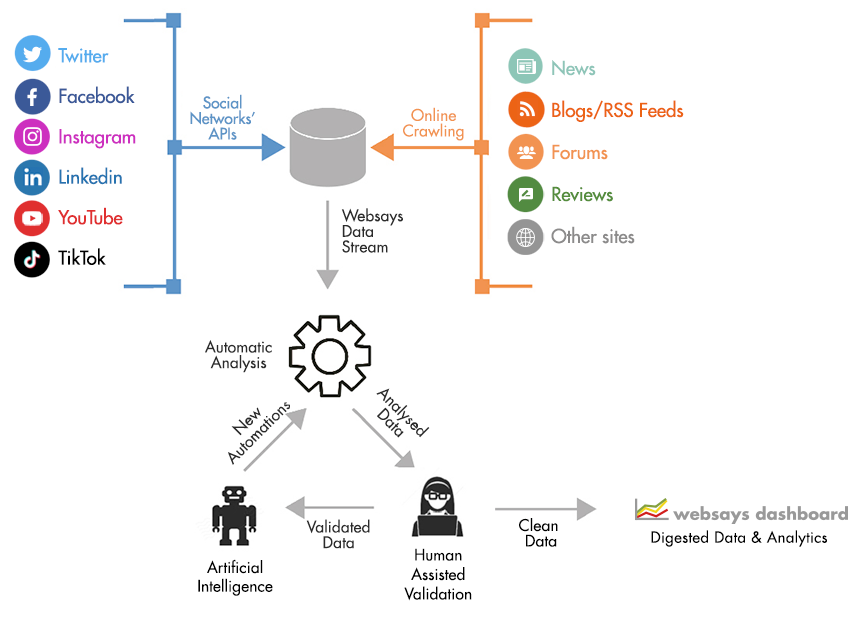 Data
Social data is everywhere and Websays is here to find it! The union of forces between our technology and our great team makes us experts in social data collection. Websays offers you the most complete social listening experience with access to social media, blogs, forums, reviews, online press and other websites so that you do not miss anything that the web says about you.
In web search, we have millions of media from around the world and the best media coverage, with 4-hour refreshments and adding new media reported by our clients, daily.
Regarding social networks:
Twitter: we have 100% coverage, since we hire the Powertrack and Premium historical and we are also able to obtain the Bio of the authors to geolocate not only the tagged mentions but all based on the author's location, thus increasing from a usual 10% to 60% geolocation of the entire conversation including news, blogs and the little that Facebook offers us geolocated.
Facebook: we connect to the new Facebook public API to perform searches and to connect owned channels. We have 100% coverage in owned channels and those offered by its API in terms of free search with multiple users. We also have a Premium Data service to expand these results and be able to obtain all the public data available on facebook.com.
Instagram: we connect to the new Facebook public API to search for hashtags and authors on Instagram. We have 100% coverage in owned channels and those offered by its API in terms of search for hashtags and users.We have a Premium Data service to expand these results and be able to obtain all the public data available on instagram.com, including the free search that has just been published in some parts of the world.
YouTube: we connect to its API to obtain both authorized owned channels and other channels through open search, obtaining the videos that contain those terms in the title and description and downloading all the comments in addition to the insights such as views or likes.
Linkedin: it only allows owned channels by authorization but we are working on a Premium Data service to obtain much more from this social media that is increasingly used throughout the world.
Tiktok: we are finishing the crawler for this booming social media for the young and not so young. We will keep you informed.
Your Data: we can also add any private customer's data that needs to be structured and tagged for analytical purposes or also to integrate it into other systems.
Zendesk Connectors: an example of custom projects is our current connectors with Zendesk or other Help Desk Tools. We can insert Social Media mentions, from owned channels or external, in any ticketing system so that they become modern Social Contact Centers. As Zendesk Premium Partners we can configure your next-generation Contact Center to give it all the power of social media and automate processes with our Natural Language Processing (NLP) and Automated Process Robotization (RPA).
People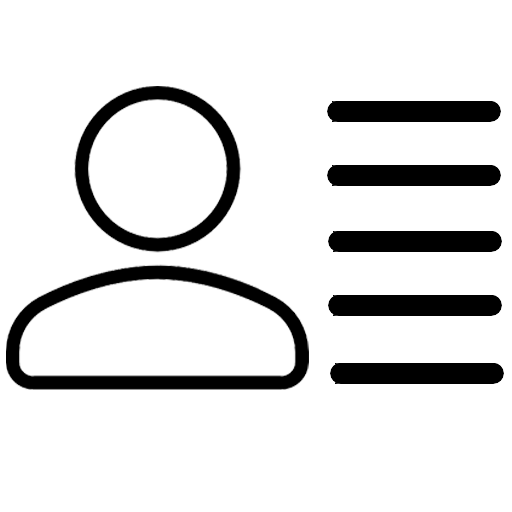 Social Media Panels
Reputation reports

Digital Clipping
Opinion, market and competition reports
Influencers' identification
Election prediction
We have the data and the people to decipher it. Our team of Data Analysts plays a pivotal role on your results. Websays' Data Analysts will be present throughout the whole process ensuring that:
your searches are optimized
your listening results are accurate and relevant (no noise, no spam)
the sentiment has a decent quality
you actually get important insights from the social data collected
In fact, most of our clients do not worry about creating complex queries to discern what is relevant to their brands, they totally delegate it to the dedicated analysts since it is always included in our rates and we got the hang of it over the last 10 years.
Working closely with our clients and every department within Websays, these highly skilled analysts are an essential part of the social listening process.
Our analysts, in addition to providing personalized customer support, reading and interpreting data to guarantee a clean listening without irrelevant data but without losing mentions of interest discovering new hashtags or terms of interest to the brand, also carry out reports. For the clients who hire it, the same analysts who control the conversation of their clients and therefore become experts, take note of what is most interesting when preparing the reports, whether weekly, monthly or punctual, with analysis both quantitative as well as qualitative.
Markets
How is your brand perceived by the market? Where do you stand within your competitors? What are consumers saying about your products? What are consumers in other regions saying? Is it worth opening a new market abroad? Social Listening helps you answer these and other questions. Listening to the Market is crucial and Websays has the best tool to collect what the web says!
Our products and services give you thorough insights regarding your brand, competitors, consumers and the industry in general. In order to create new strategies or review results, you must have all the relevant information and our team is here to help you navigate through the social data.
With tools like Websays Communities and Websays Comparisons, it is enough to choose the search terms well to do a market study that is good, economical and very quick! In addition, thanks to your dedicated analyst, we can do a 3-month study in which we initially add product and competitor names and we expand to other concepts to obtain the real picture of your entire sector, identify the influencers, see what the others are doing. brands and discover niches, new consumers and the best ambassadors of your message.
Tribes
According to the dictionary, a tribe is: a group of persons having a common character, occupation, or interest. The new online research method originating in ethnography called Netnography, studies these tribes by understanding their interactions in the digital communications context.
Websays gives you the tool to determine and understand your tribe(s) and to create netnography researches. Once you start tracking these tribes, you are able to truly identify your Buyer Personas and influencers, and understand what are the common interests, demographics or even communication style.
We created an innovative service called Social Media Panels in which we segment the right tribes that you wish to listen to, whether it's a group of specialised professionals or a group of end consumers. Imagine the old school Focus Groups but instead of having a group being guided through specific questions, the Social Media Panels give you a unique opportunity to listen to your own audience, on their "natural habitat". Now, imagine the amount of information you can take from this experiment! And for that, we have trained analysts to make sure you get the relevant intel.
Trends
Don´t we all dream about being able to predict the future? Understanding the trends and how consumers' opinions shift and evolve is obviously a game changer for any company.
Websays' Technology, Data and specialised Analysts can help you read between the lines of what your market is saying online in order to better prepare for the future. You can make better decisions with the relevant information.
We help you make the most out of our platform to access industry and market behaviours by analysing today's conversations and identifying the next hot topics or the next PR nightmare.
Following the influencers within your industry is also key when it comes to keeping track of relevant developments. You can wait for transformation to happen and react or be part of the conversation and actually have a say. We can help you become the leader instead of just an observer.
For more information please contact sales [@] websays [dot] com or book a free demo here: